A  most warm welcome to this 'Whole of Community' Suicide Prevention Media and Public Information site. It is NOT A HELP SITE but is purpose built for anyone, media or general public to find out more about my Suicide Prevention Advertising, what the Adverts are, how they are intended to work, why they have been created – and the underlying 'core thinking' behind them.
If UR coming to this site responding to my call for a Sponsor/Donor, I suggest you might like to read and digest the contents of this home page below, before going to the top right menu bar – 'Sponsor Required NSW'.
To get a good 'overview' of what I do and why, scroll down on this page you will find and be able to see, read and download the following…

7 page pdf with graphs from 1980 – 2015 of Suicides vs Road Fatalities with comments by key players and myself.

10 of my more recent ads
BBC podcast of my March 2016 interview with Claudia Hammond of Health Check with discussion and appraisal of my work by Prof Keith Hawton, Director of Suicide Research, Oxford University.
7 minute video taken for my 2016 Crowdfunding Campaign set in my home town of Lyndoch in the Barossa Valley, S.A. This features my ACE sheepdog Angel.
The POLITICAL reality of $$$ Suicide Prevention $$$ in Australia.

Aussie Suicide Stats from 1921 and Road Fatalities from 1970.
*Please note… this is NOT a *HELP site…
*If you are feeling Suicidal or struggling with UR Mental Health, if urgent, numbers for Australia only, *Dial 000, see ANY *Doctor, *Suicide Callback 1300 659 467, *Lifeline 13 11 14. If less urgent see ANY Doctor or Mental Health Professional, go to beyondblue or Lifeline websites or by telephone as recommended on these sites.
Also important to note
There is nothing on this site 'for sale'.

I earn my money running sheep, NOT placing ads.
I DO NOT give Professional advice which I am NOT qualified to do…
My adverts at all times highlight the many, many issues which cause Suicide – educating the 'Whole Community', teens to old age and then…
Guide those at risk and those around them into

*

Professional Care as

*

above.
After 4 1/2 years I am currently – 21.2.18. – writing my 131st advert (

all completely different)

,

they have appeared in three separate S.A. papers and one in NSW

without to date… one single complaint from anyone.
As far as I am aware, they are unique not only in Australia, but world wide. They do not seek to replace OR compete with Professionals, Organisations, Doctors, Mental Health Professionals, Lifeline, beyondblue, Black Dog etc….
They are intended to enhance Community awareness of most of the related issues around Suicide, without relying on Acts of Parliament, new or different organizations etc. or massive injections of public money.
They are also DIRT CHEAP. Working on the average 'charity' reduced advertising rate – for being a community service, and assuming only a 10% reader uptake of the advert, they cost around 5 cents a read. Just how much is one 'good Aussie's' life worth!

I use pictures, humor,  graphic design and SEX APPEAL to 'draw my reader in' to the ad. I also use Love, 66 years of my own 'ups and downs' as experience. I try to make them easy to read and take in, with non Professional, non threatening language,  and concentrate on the common, universal issues which cause Suicides like Heartbreak, Situational Crisis, Loneliness, Trauma and Mental Health issues.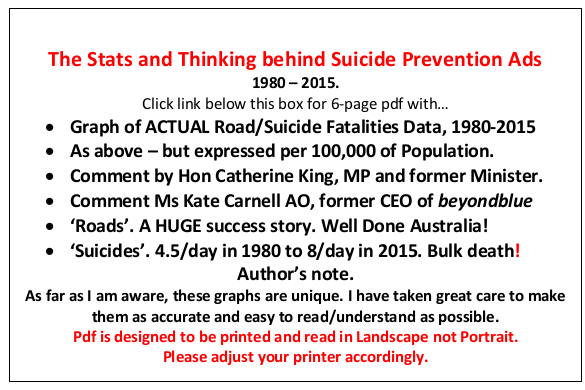 New Road and Suicide Fatalities Graph 1980 – 2015. R 1.
Since I started this journey June 23rd 2013, with my very first advert – I have spent over $17,000 of my own, hard earned  money placing adverts myself – but now have two fortnightly sponsors, one in the Barossa 'Leader' (23,000 readers), and the other in the Byron Shire Weekly, NSW, (50,000 readers and free online as well).

Here are 9 of my more recent ads. Click on advert should load it in new window for U.      
  If you click on the Title above the advert, it should download for U as a PDF.
We Like Our Ducks All Lined Up in a Row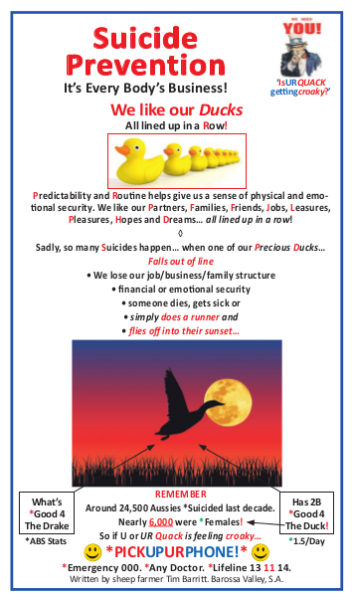 Is Suicide Prevention REALLY 'FAKE NEWS!'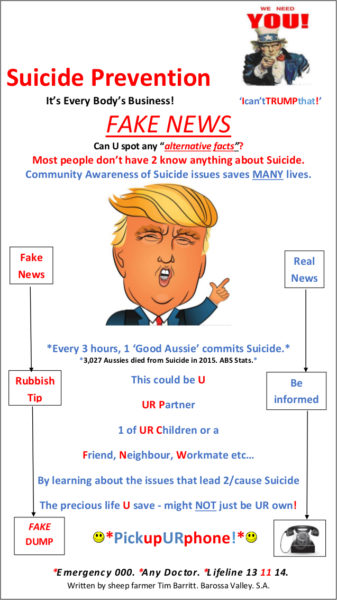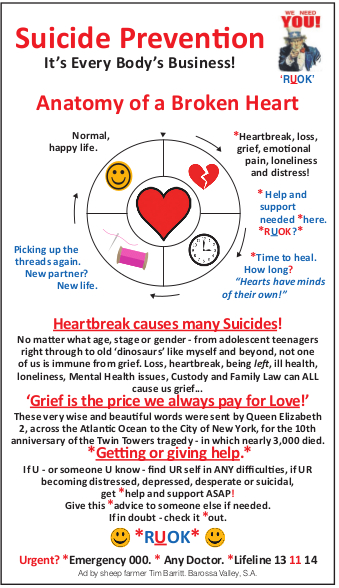 I am now totally used to being completely ignored by the large newspapers and ABC Radio. How could a separated, 66 year old sheep farmer from the Barossa Valley possibly have anything constructive to say or give to the huge task of reducing the massive loss of Good Aussie Lives – 8/day, lost from Suicide.
It took a plucky, gifted radio and media presenter with two degrees in psychology to notice what I am doing…
BBC interview with Claudia Hammond of 'Health Check', and Professor Keith Hawton, Director of Suicide Research, Oxford University (with comment and critique on what I am trying to achieve with my adverts), click below or goto 'BBC' on menu bar. Podcast courtesy of – and with grateful thanks to the BBC 'Health Check' team. You will need to wait a minute or so while Claudia introduces the whole program.
◊◊◊
While my crowdfunding attempts to raise money for adverts in the Sydney Morning Herald did NOT prove successful (crowdfunding site closed), if you want to 'meet' me in person, along with my trusty sheep dog 'Angel' – in my home town of Lyndoch – this 8 minute video might just give you a laugh, and introduce you 'in another way' – to who I am and what I do.
◊◊◊
The 'ethic' behind All my ads is to highlight the many issues, largely learned from 66 years of my own life experiences, then guide readers into Professional Help as above.
Importantly, they are ALSO intended to teach partners, lovers, family, friends, work/team mates and everyone else in the community the signs and circumstances of emotional pain, so they can play a key role in keeping others alive! Initially by encouraging them to get this Professional Help ASAP, and next by offering their own valuable love, caring and support. The last advert displayed above, 'The Hidden, Silent Killer' says this simply –  The Life you save – might NOT just be your own!

 The Politics of Suicide Prevention Updated 31.7.16
  Also  for pdf on 'How Aussie preventable deaths are treated differently by our Politicians and Media' click here :- 7 Suicides happening silently, each and every day. Also recent  Men's Health Column Towards a Gun Safe Community. Male Box for Feb 16.
 For latest 2015 Suicide Stats, Road fatalities since 1970, Aussie Suicide Stats since 1921, all the 'Raw' figures used for my graph, comments etc. This is a 15 P download. Click here. Suicide-and-Road-Fatality-Stats-E-14-12-16-with-Graph-and-all-Data-used
Personal site disclosure information.
I have a financial interest in this site as follows …
 While my primary focus is saving precious lives, and there is currently nothing on this site 'for sale' – and no links to anything that is:- I have funded my Prevention Advertising so far myself to the tune of around $17,000 now. At present, I have 1 fortnightly Sponsor in South Australia and 1 in N.S.W.

At this point in time (21.2.18) – I have not made one cent from my S.P. activities, and currently have no wish to.
◊
Also for anyone wanting to offer these ads – or upgraded versions-  to their own Communities anywhere in Australia, which are currently available to your Community totally free, to any Community who can find the money for the advertising space – which is paid directly to the Newspaper – NOT to me.
◊◊◊
The following story appeared in the 'South Australian Showcase' – celebrating a 'Showcase of Inspiration' of country South Australia by Country Press S.A. "which was inserted into all member newspapers across the State" the first week of September 2014, for the Adelaide Show.  Click once, then twice on image to enlarge to read the text.
The site also has some info about who I am, why I do what I do, the history of these adverts,  and my contact details.
Updated 10.04.18.
Tim Barritt. x